You may venture off the grid, but you can still stay in touch — as long as you're carrying an inReach SE+ or inReach Explorer+. These handheld satellite communicators are designed for the outdoor enthusiast who wants to roam farther and experience more — without compromising their loved ones' peace of mind. From backcountry experiences to international adventures, inReach provides communication, location sharing, navigation and critical SOS functions for anyone who loves getting away from it all, on land, water or in the skies.
Explore Anywhere. Communicate Globally.
Using the worldwide coverage of the Iridium satellite network, these go-anywhere portable devices let you exchange text messages with any cell phone number or email address — while using GPS to track and share your journey's progress. You can also post to social media or even communicate inReach-to-inReach in the field.
In case of an at-risk situation, you can also use inReach to trigger an SOS to the 24/7 monitoring center, text back and forth about the nature of your emergency, and receive confirmation when help is on the way.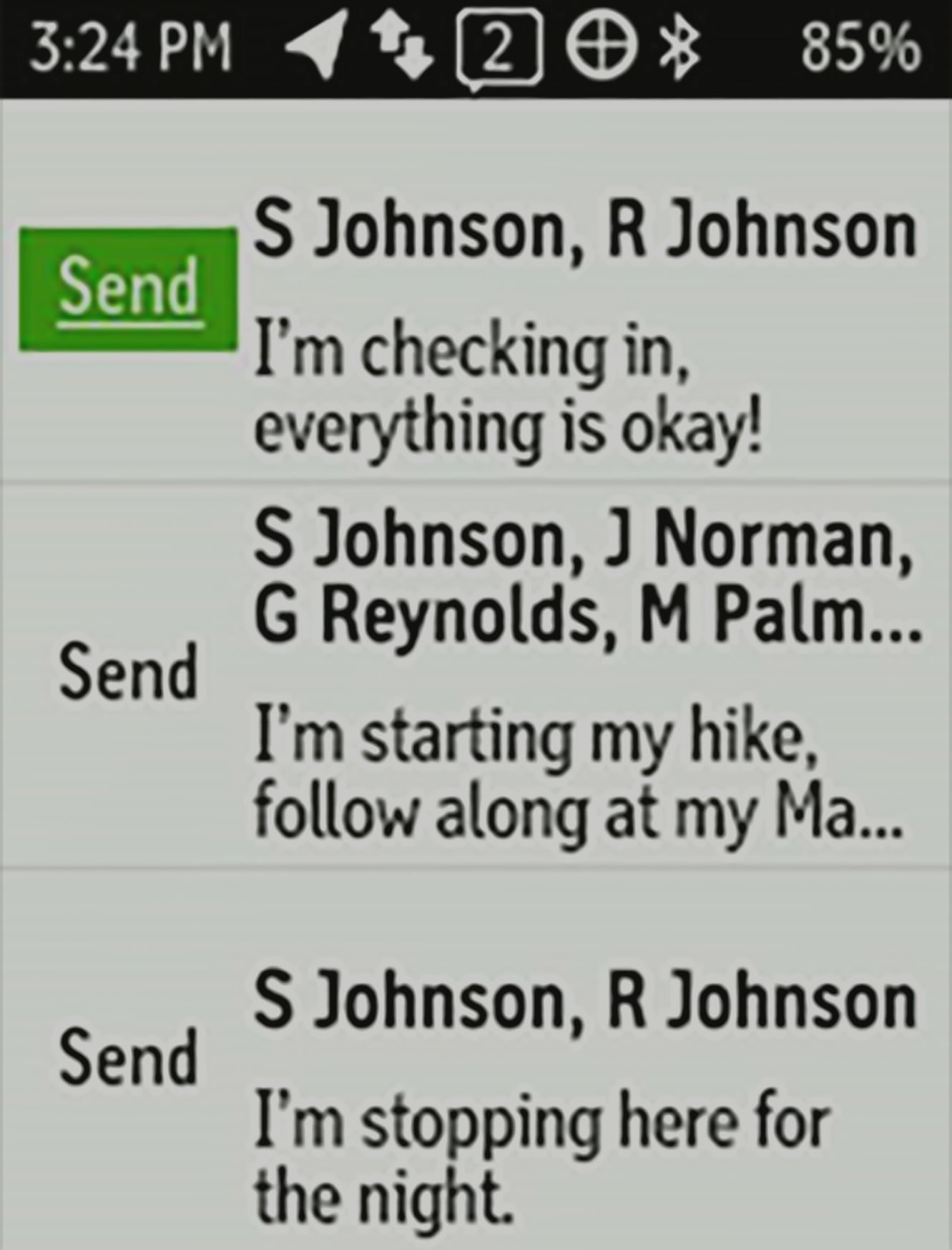 No Cell Tower? No Phone Service? No Problem.
inReach SE+ and Explorer+ give you all the tools to stay totally connected. You don't have to worry about being within range of a cell tower — or encountering spotty coverage in fringe zones or blackout areas. Your inReach communicator offers two-way messaging via the global Iridium satellite network.
Track and Share Your Whereabouts
Turn on the tracking function of your inReach SE+ or Explorer+ communicator, and let family and friends follow your progress on their computers or mobile devices, using the web-based MapShare™ portal. The inReach device will send waypoints at preselected time intervals, so followers can track your whereabouts online. You can also invite your crew back home to use MapShare to ping your inReach unit and see your GPS location, track your movements and exchange messages during your trip. You can even embed your MapShare page on a blog, website or social media.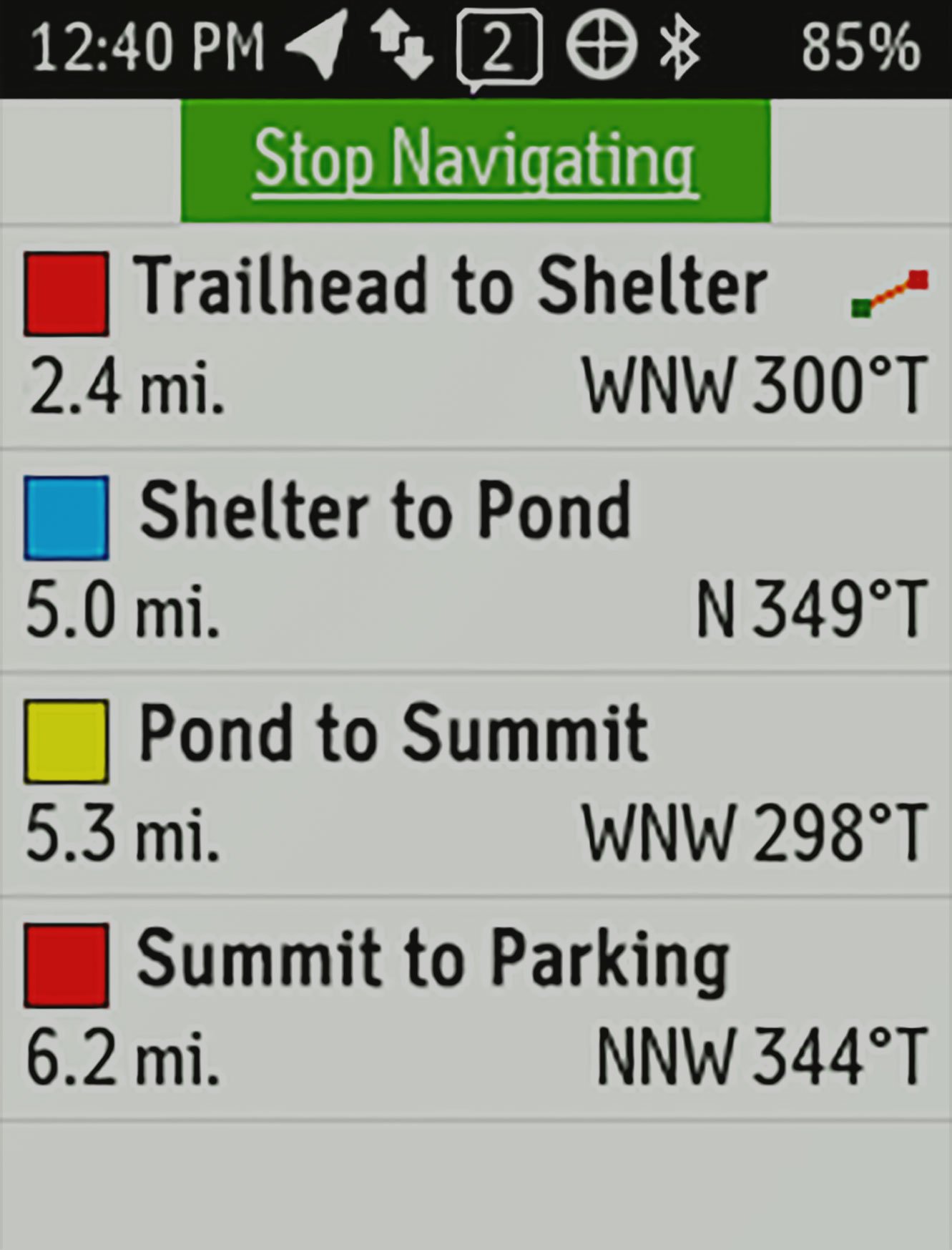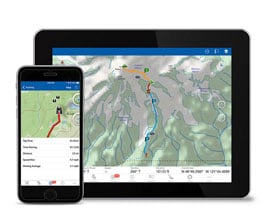 Pair with Your Mobile Device
For even more capability and convenience, the free Earthmate® app syncs your inReach handheld via Bluetooth® with your compatible Apple® or Android™ device¹ so you can access unlimited maps, aerial imagery and U.S. NOAA charts. Plus, Earthmate allows you to conveniently use all of the inReach features on your paired mobile device. For easier messaging, you can also access your phone's contact list from the Earthmate app to connect with fewer keystrokes.
Get Weather Wherever
The optional inReach weather forecast service provides detailed updates directly to your inReach device, compatible smartphone or tablet paired with the Earthmate app, so you'll know what conditions to expect en route. Basic and premium weather packages are offered. And you can request weather forecasts for your current location or any other waypoint or destination on your itinerary.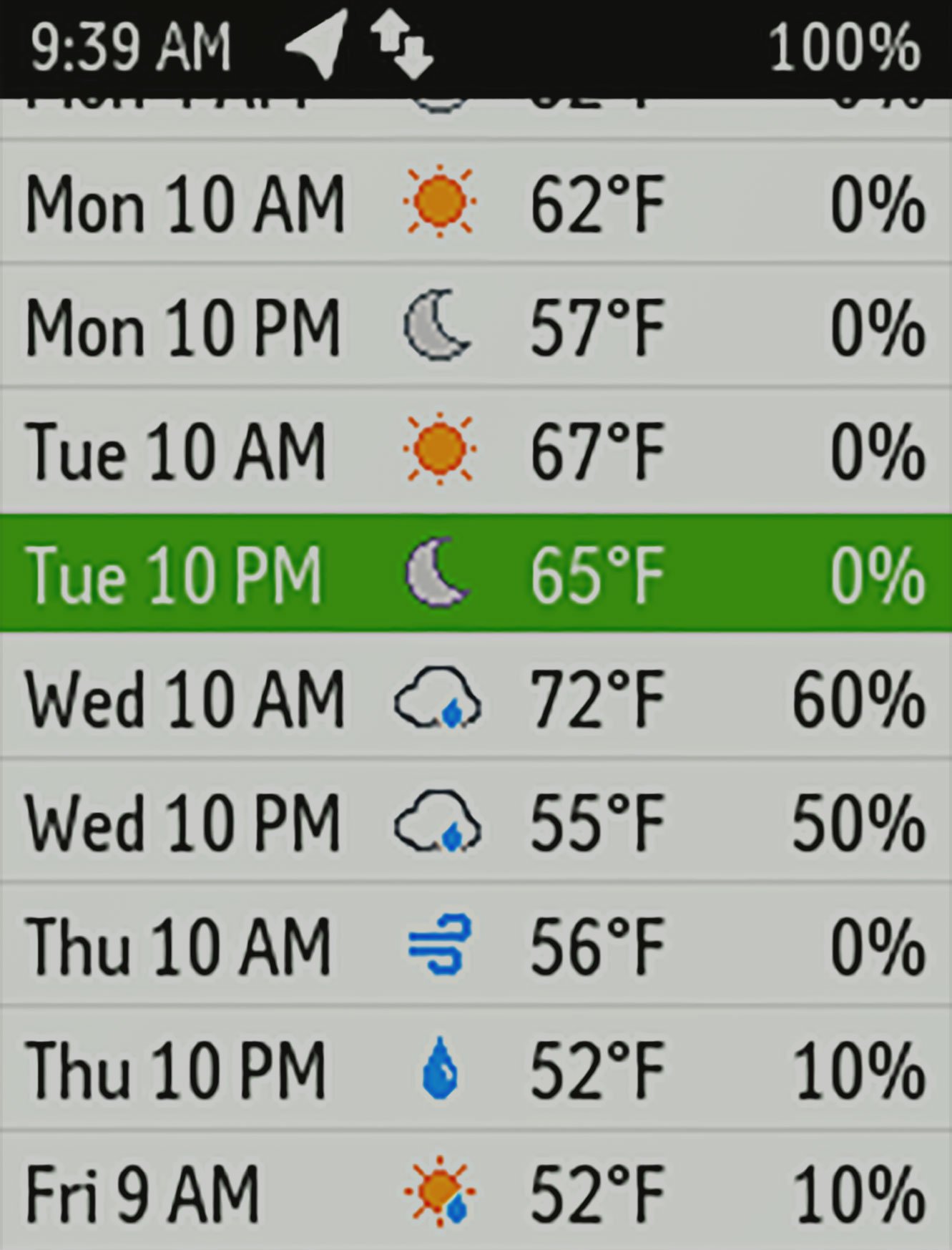 Who Will Answer Your SOS? GEOS Will.
GEOS is the world leader in emergency response solutions and monitoring. They've supported rescues in more than 140 countries, saving many lives in the process. And they're standing by 24/7/365 to respond to your SOS, track your device and notify the proper contacts and emergency responders in your area. Then, while help is on the way, GEOS will continue to text back and forth with you, providing updates and critical information until your situation is resolved. Watch this informative video to learn more.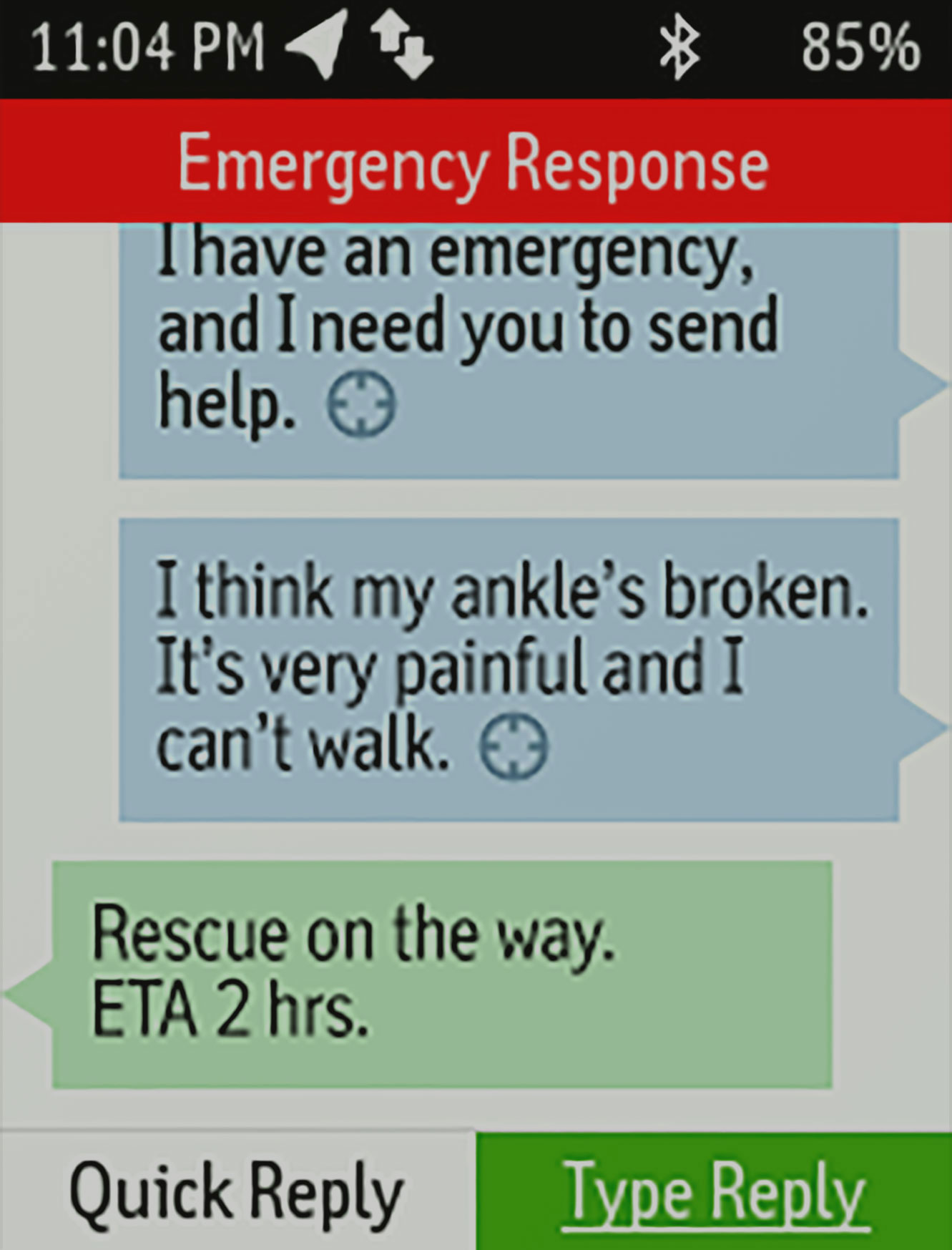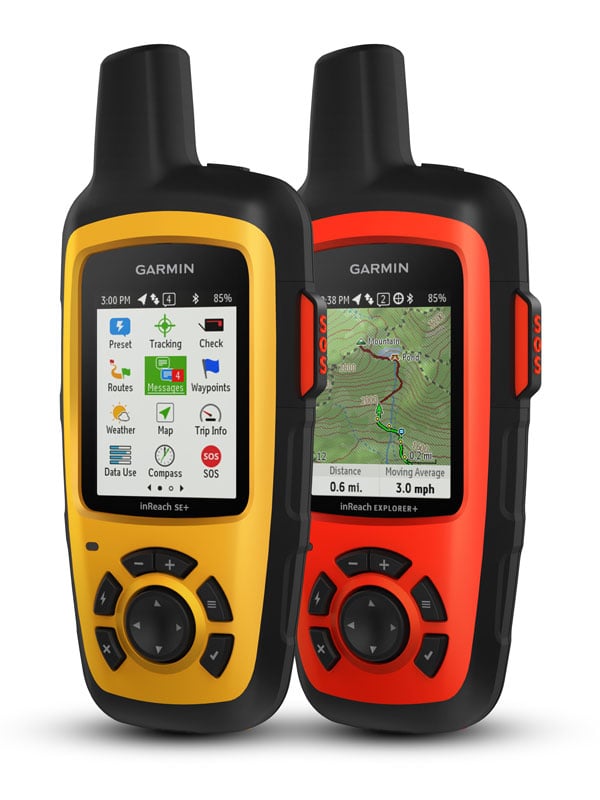 Which inReach Is Right for You?
As satellite communicators, both the inReach SE+ and Explorer+ offer identical messaging capabilities. However, it's on the GPS navigation side that their differences become apparent. While inReach SE+ uses GPS to provide basic grid navigation and allow you to drop waypoints, mark key locations, track your progress, and follow a breadcrumb trail back to base — the inReach Explorer+ goes a step beyond, providing full-fledged GPS on-map guidance with preloaded TOPO mapping and waypoint routings viewable directly on the unit. Plus, a built-in digital compass, barometric altimeter and accelerometer are included with Explorer+ to help you get and maintain accurate bearings on or off the beaten path.
Affordable, Flexible Satellite Airtime Plans
To access the Iridium network and communicate with your inReach SE+ or Explorer+ device, an active satellite subscription is required. Depending on your usage level, you can opt for an annual contract package or flexible month-to-month airtime plan.
Unlimited Cloud Storage and Trip Planning are Included
Every inReach device comes with free access to a cloud-powered Garmin Explore website to plan your trips with routes and waypoints, create preset messages and quick texts, sync and manage your device settings, update your firmware, download additional TOPO maps, link your social media accounts, store all your location tracking data and much more.
Built for the Rugged Backcountry
Tough, durable, impact resistant and water-rated to IPX7, the inReach SE+ and Explorer+ handhelds are built to keep you up and running — no matter what the elements throw at you. An internal, rechargeable lithium battery comes standard on both units so you can count on long battery life in every mode of operation (up to 100 hours at 10-minute tracking mode (default); up to 75 hours at 10-minute tracking with 1-second logging; up to 30 days at the 30-minute interval power save mode; and up to 3 years when powered off). Recharge via the standard microUSB power cable or optional in-vehicle 12 V charger.
Additional Aviation Services
Your inReach Explorer+ is also a supported device for the Lockheed Martin Flight Services (LMFS) Adverse Condition Alerting Service (ACAS), Surveillance-Enhanced Search and Rescue (SE-SAR) and Enhanced Special Reporting Services (eSRS). If you register for ACAS information, alerts provided via LMFS prompt you to call for an abbreviated briefing to address any specific adverse condition situation that might affect your flight-planned routing. Likewise, automatic monitoring provided by the SE-SAR service enables the system to identify potential flight emergency situations and/or signals to promptly initiate search and rescue procedures for your aircraft.
¹Preloaded DeLorme TOPO maps are not compatible with other Garmin devices. Other Garmin maps not compatible with this device.
The Bluetooth word mark is owned by the Bluetooth SIG, Inc. and any use of such marks by Garmin is under license. Apple is a trademark of Apple Inc., registered in the U.S. and other countries. Android™ is a trademark of Google Inc.
FREE SHIPPING (Continental USA)
FREE standard shipping on orders over $139 of Blue Ridge Overland Gear brand products (please note: that means product total before shipping costs). Limited to orders shipped within the continental United States and does not include anything but Blue Ridge Overland Gear. Other conditions may apply. Please remember that your product total (before shipping costs) must be over $139 to qualify for FREE SHIPPING.
INTERNATIONAL ORDERS (NO HEAVY FREIGHT!)
We do ship most BROG brand products overseas but, please take note, we do NOT ship heavy products like fridges/powered coolers and fridge slides outside of the continental United States of America.
MORE IMPORTANT INFO
TIME SENSITIVE ORDERS: Many of our customers order from us right before they are taking a trip. We do our best to get your order to you as quickly as possible but we always recommend that you place your order well in advance of any trip you may be taking. Please keep in mind, if you order one of our products and it is a low stock item there may be additional time required for production.
We highly suggest that you DO NOT attempt to place an order at the last minute. We cannot guarantee that your order will be expedited, especially if we are experiencing high order volume. However, we do try to prioritize orders when possible, if necessary - so feel free to contact us for the most recent information on turn-around times. 
REROUTING PACKAGES: We also get rerouting requests at times. Rerouting your shipment is possible in many cases but not always. There are alot of details to keep in mind and there is a charge for rerouting - please read all details below:
 Please include in your order notes what day you must have the items "in hand" if your order is time-sensitive.
If your trip deadline is approaching and you are concerned that you might not receive your order in time, please try to contact us before the item ships to avoid rerouting fees.
We are happy to reroute already shipped orders to keep up with your changing itinerary. However, please note that once an order leaves our facility, you as the customer are responsible for any rerouting fees assigned by the carrier. Rerouting UPS shipments already in transit are a $35 fee per address change. USPS charges around $15 dollars per address change.
Not every shipment is eligible for a reroute. Will check the status of your shipment to be sure it's available for delivery changes BEFORE you are charged rerouting fees.
Rerouting fees can be paid by an online payable invoice at your request. Please note that once an item is rerouted, these fees are non-refundable.
Rerouting your shipment can add add several days to the transit time of the item. Changing your shipments address doesn't guarantee you will receive the items more quickly than the expected delivery date.
We cannot switch carriers mid-shipment (i.e., an item intially shipped UPS at your request and you wish to have it delivered by US Mail).
RUGGED LIFETIME WARRANTY

We pride ourselves in building rugged products that you can use for a lifetime. We're in it for the long haul and so is our gear. Don't be afraid to put it to the test. If for some reason you don't love your authentic BROG gear, let us know and we'll make it right. If you run it over by accident or the kids (human or animal) tear it to pieces, let us know and we'll replace it. If you drop it off a cliff or some curious squirrels steal it away in the night that would be hard to replace - but if our products don't survive your typical wear and tear or even your abuse - we want to know about it. We're here to help you get outdoors and stay organized. If you have any issues or questions contact us.

// See Our Full Warranty: HERE //
RETURNS
You can return any Blue ridge Overland Gear product in 30 days, for any reason. Please contact Customer Support for more information on returning an item (see ways to contact us below).
Shipping return address: Blue Ridge Overland Gear, 2687 Rocky Ford Rd, Bedford Va 24523

=========================
Contact Us By Email:
Email us at: support@blueridgeoverlandgear.com  (This is the preferred way to reach us, as it allows us to quickly relate your contact info with your full order history).

Please know our Customer Support Team strives to answer emails in a timely manner. We typically reply within 24 to 48 hours - but please note: we typically do not reply on evenings and weekends when the office is closed.


Call Us On the Phone:
1-866-855-5471
(See here for our hours. Closed on evenings and weekends.)

We are a small team but are dedicated to you - our customer! If we are helping other customers, or you call outside of our normal storefront hours, please leave a message with: (1.) your full name, (2.) a phone number we can reach you at, and (3.) your order number.
Please note: if you call via phone but do not leave us a message we will not be able to return your call.