Description

Specifications

In The Box
Gear up for group rides.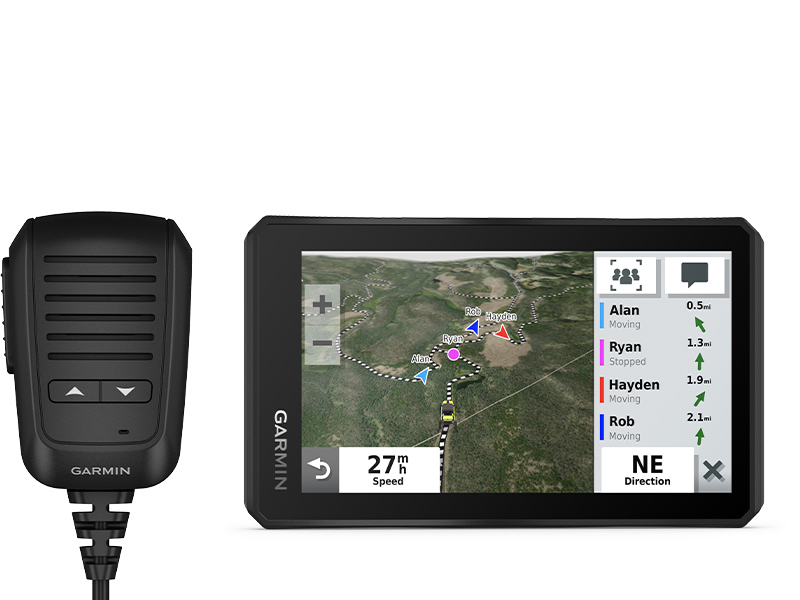 RIDING RADIO FOR GROUP GETAWAYS
The included Group Ride Radio allows tracking for up to 20 riders with no cellular coverage needed. Plus, the push-to-talk fist mic1 lets you easily stay in communication with your Group Ride friends. Pair Tread with your helmet or headset (not included) enabled with BLUETOOTH® technology for hands-free communication.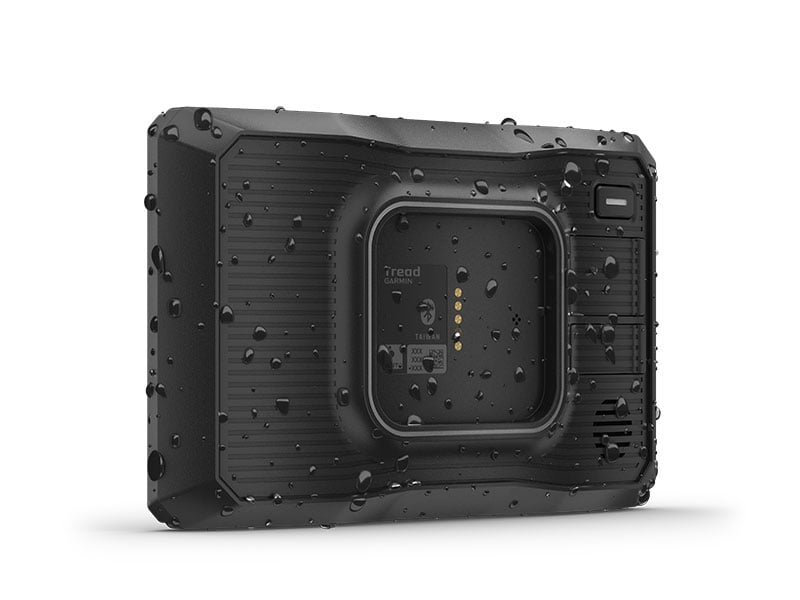 OFF-ROAD RUGGEDNESS
Purpose-built for all-terrain use, Tread stands up to anything the elements can throw at it. It's IPX7-rated for water-resistance and built to U.S. military standard 810 for thermal and shock resistance.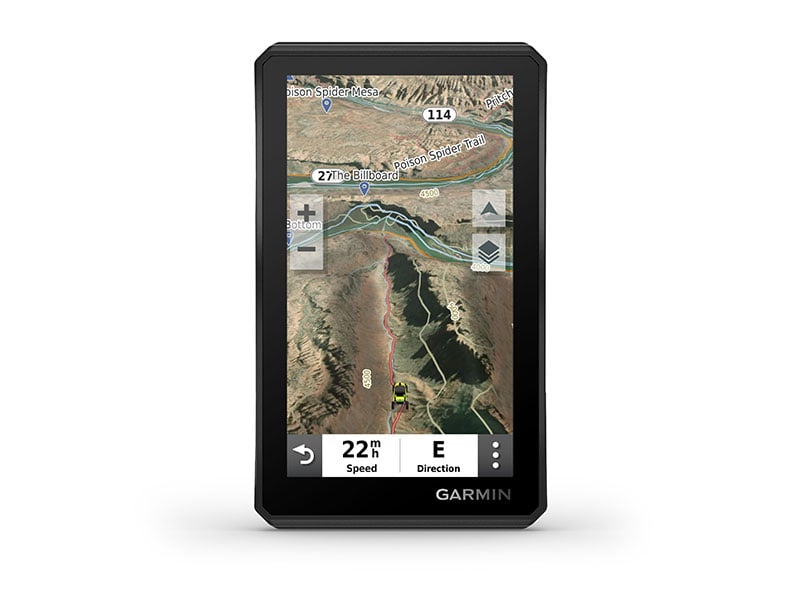 HIGH-VISIBILITY DISPLAY
With its ultrabright 5.5" glove-friendly touchscreen, the Tread navigator is designed for easy viewing in bright sunlight or pitch dark. It can be mounted in portrait or landscape mode.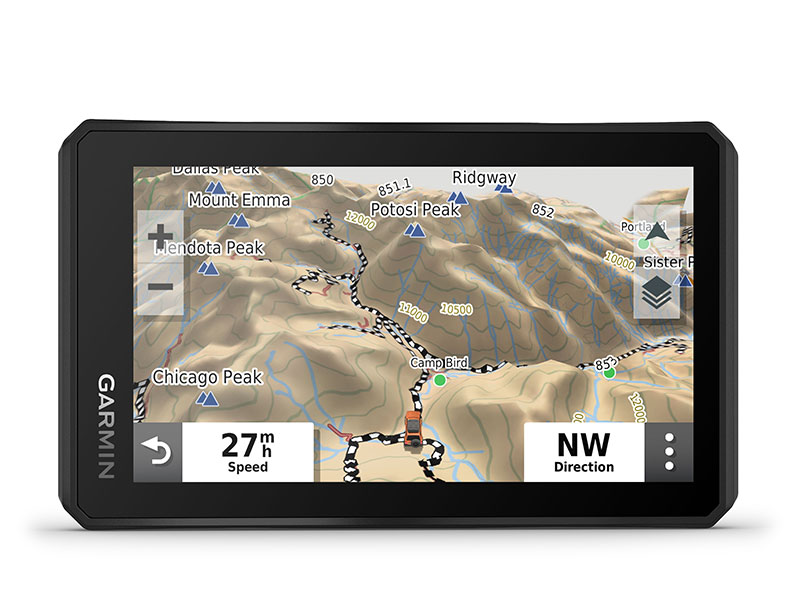 MAPS FOR OFF-ROAD
Tread features preloaded topographic and street maps of North America with U.S. Forest Service Roads and trails and Motor Vehicle Use Maps for full-sized 4x4s, side-by-side, ATVs and motorcycles.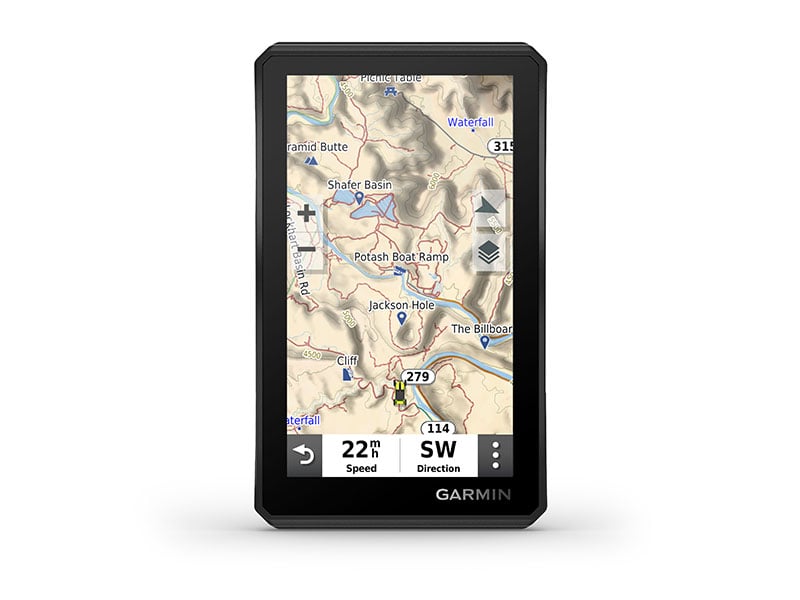 KNOW YOUR BOUNDARIES
Access public land boundaries for national forests, Bureau of Land Management (BLM), wilderness areas and more. Also, see private land boundaries and landowner information for parcels greater than 4 acres.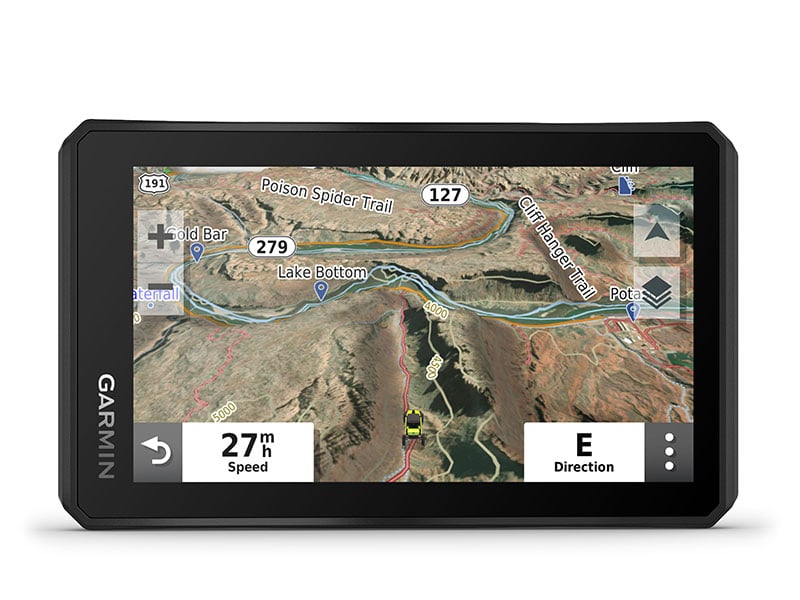 SATELLITE IMAGERY
Download high-resolution BirdsEye Satellite Imagery directly via Wi-Fi® connectivity, with no annual subscription required.
Track through the outback — and stay in touch with your friends.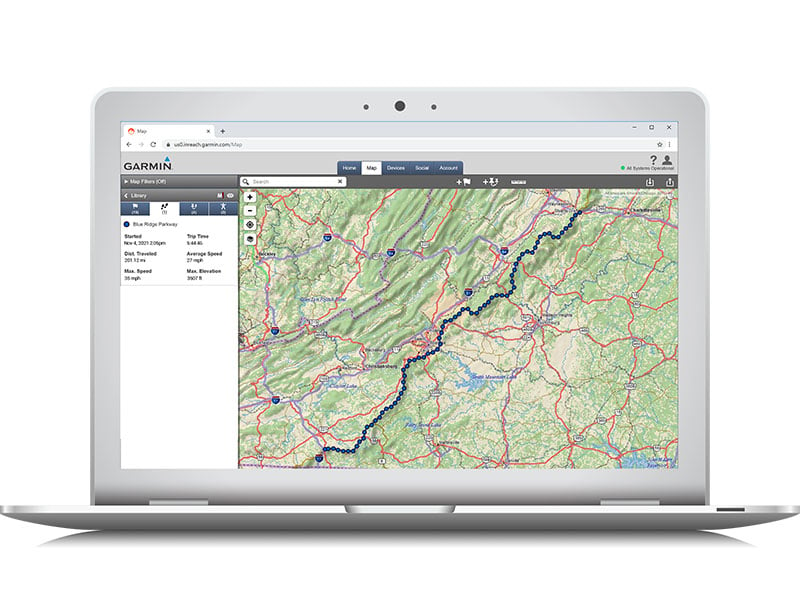 EASILY SYNC YOUR DEVICES
Use the Tread app2 to sync waypoints, tracks, routes and collections across your devices, including your mobile device, computer and Tread navigator. Easily import and share GPX files, too.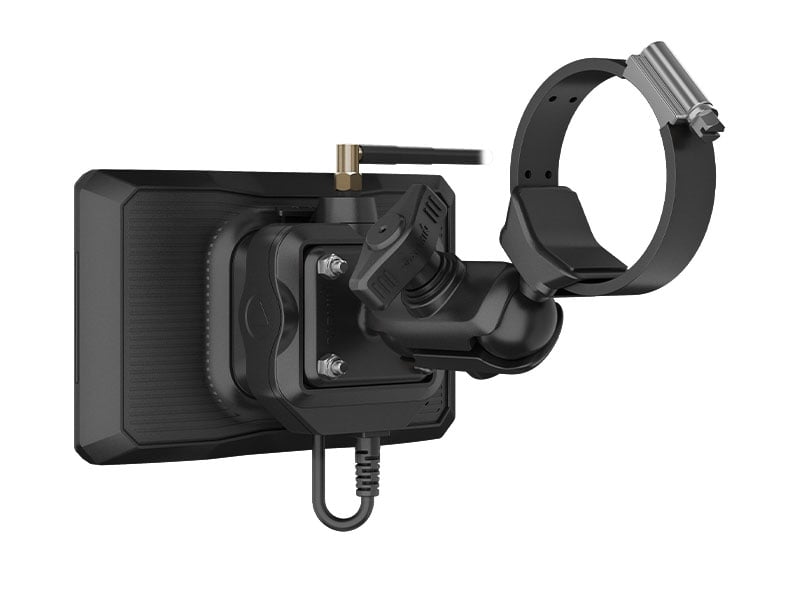 MOUNTS WITH MUSCLE
The included powered mount and wiring harness with tube mount secure your Tread navigator to your powersport vehicle for riding over rough terrain.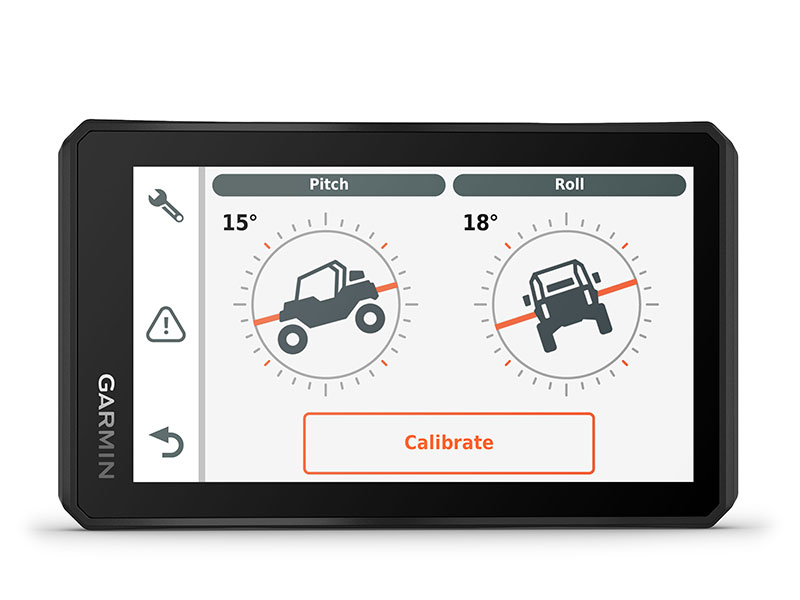 ABC SENSORS
For tough-terrain guidance, built-in sensors include an altimeter, barometer, compass and pitch/roll gauges.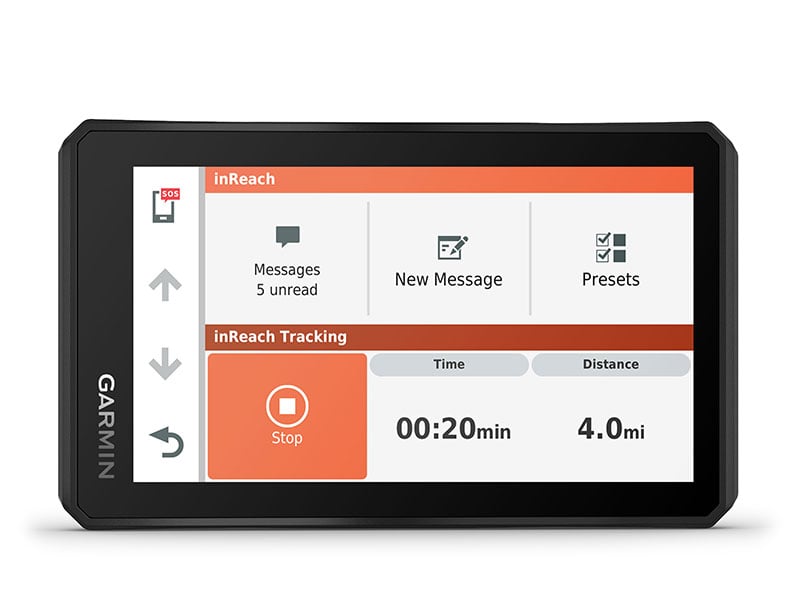 INREACH®
 

COMPATIBLE

Pair your Tread powersport navigator with one of the compatible inReach global satellite communicators3 (sold separately) for two-way text messaging, interactive SOS and weather.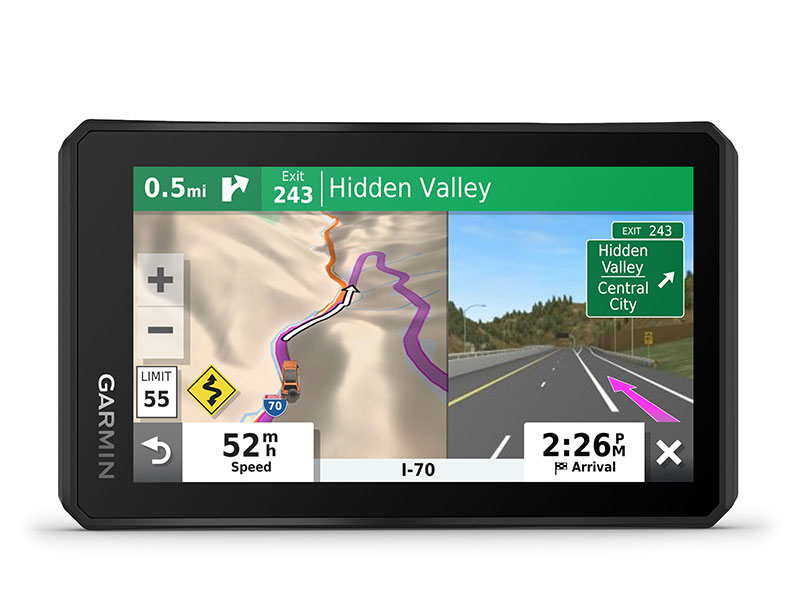 GO-ANYWHERE GUIDANCE
Get spoken turn-by-turn directions if you choose to take Tread with you when you head back to civilization and want on-road navigation. Includes driver alerts for sharp curves, red light/speed cameras4 and more.


Onboard tools for the ultimate off-road experience.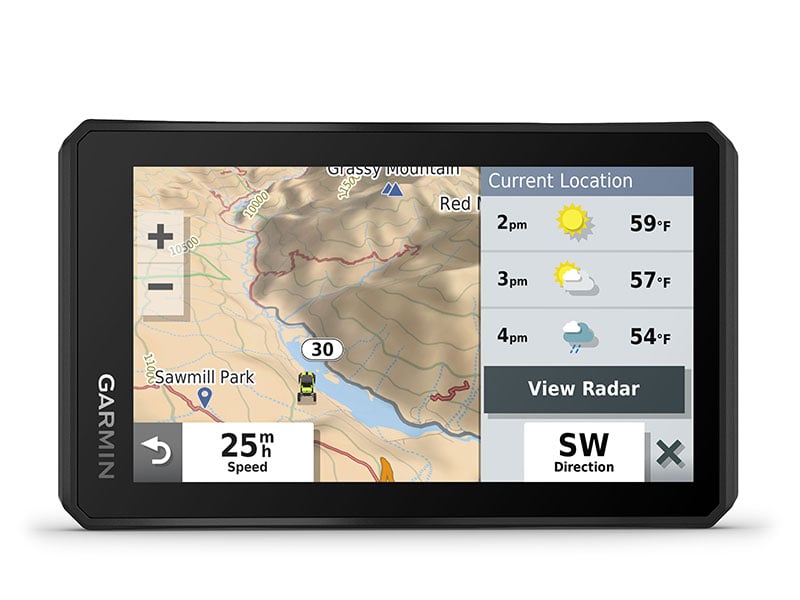 LIVE WEATHER
Weather ahead? Pair Tread with your compatible smartphone, and download the Tread app to access live weather, storm alerts, animated radar and more2.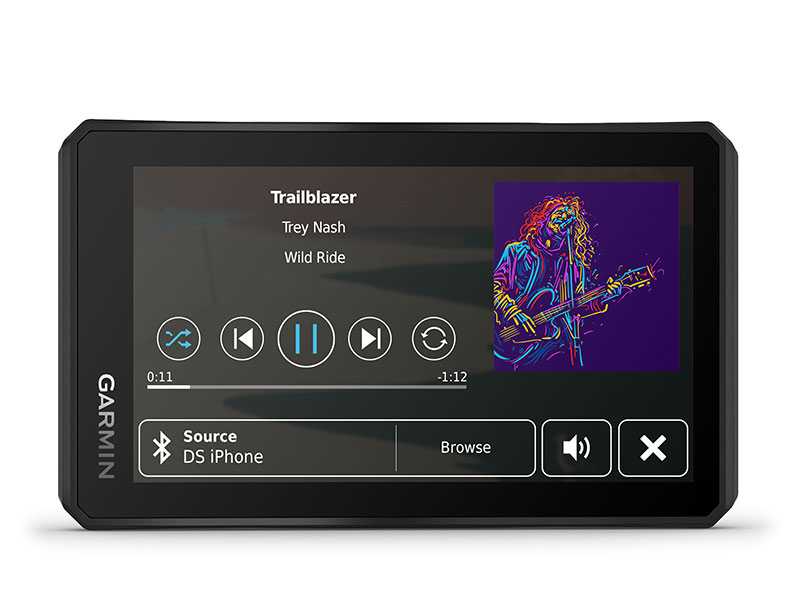 TRAVELING MUSIC
A built-in media player lets you easily control music loaded on your compatible smartphone on the navigator's display — and hear your tunes through your helmet or headset (sold separately) enabled with BLUETOOTH technology.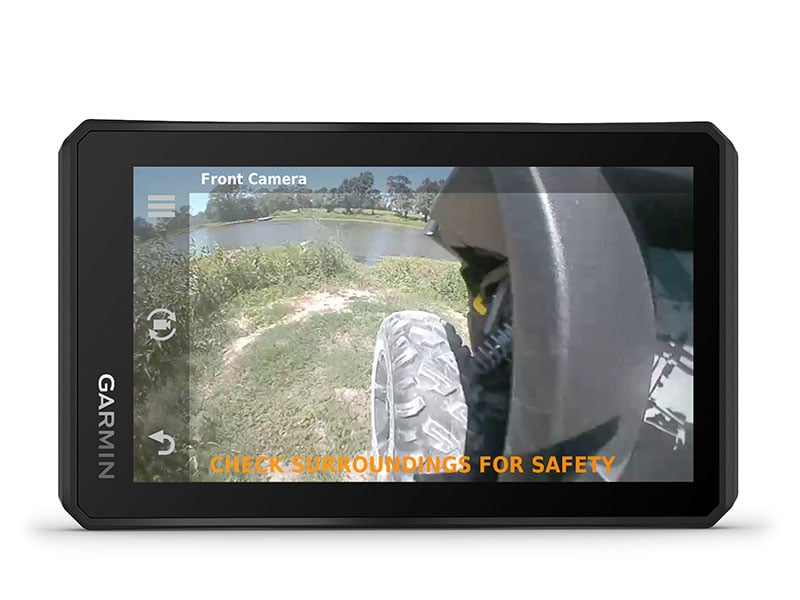 ADD A CAMERA
What's around your side-by-side? Maximize visibility by pairing Tread with a rugged BC™ 40 wireless camera with tube mount (sold separately). It easily mounts to your vehicle's tube frame, flat panel or roll cage.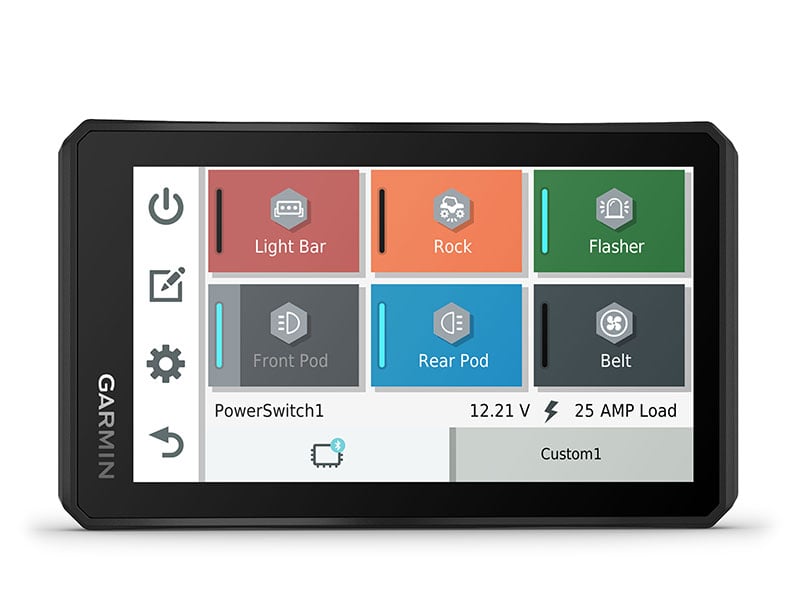 CONTROL YOUR ACCESSORIES
Pair Tread with the compatible Garmin PowerSwitch™ digital switch box (sold separately) to enable on-screen control for your side-by-side's 12-volt electronics — light bars, differential locks and more.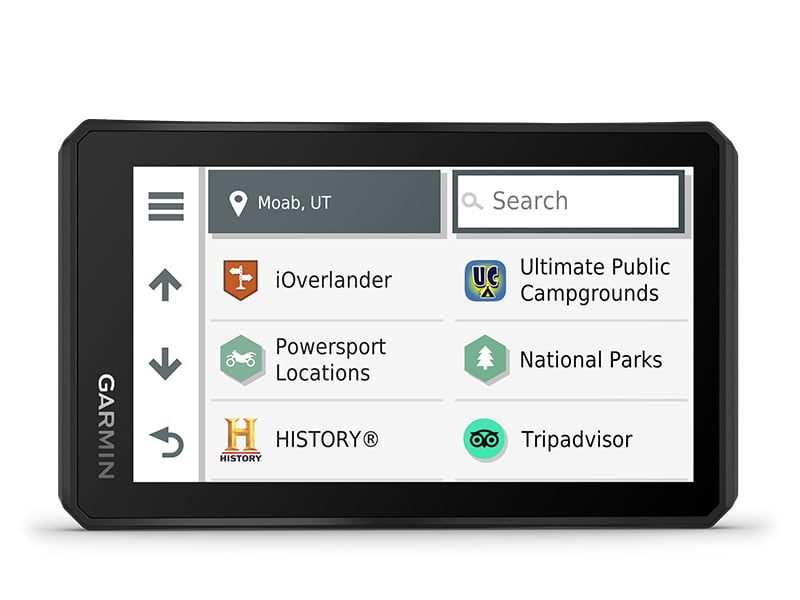 POINTS OF INTEREST
Tread comes preloaded with iOverlander™ points of interest and Ultimate Public Campgrounds, so you don't need a cell signal to route to the best-established, wild and dispersed campsites.
Physical & Performance
| | |
| --- | --- |
| Display size | 4.8"W x 2.7"H (12.1 x 6.8 cm); 5.5" diagonal (13.9 cm) |
| Battery type | rechargeable lithium-ion |
| Display resolution | 1280 x 720 pixels |
| GPS | Yes |
| Physical dimensions | 5.8"W x 3.5"H x 1"D (8.8 x 14.8 x 2.4 cm) |
| Weight | 9.2 oz (262 g) |
| Display type | multi-touch, glass, high brightness HD color TFT with white backlight |
| Battery life | up to 6 hours (up to 3.5 hours at 100% backlight) |
| Water rating | IPX7 |
Maps & Navigation
| | |
| --- | --- |
| Navigate-a-track navigation | Yes |
| Preloaded street maps | Yes |
| External memory storage | yes (256 GB max microSD™ card) |
| Ability to add maps | Yes |
Features
Ultimate Public Campgrounds
Yes
Wi-Fi® map and software updates
Yes
Automatically identifies areas of biggest time gain
No
Round trip routing
No
Speed limit changes
No
Speed limit indicator (displays speed limit for most major roads in the U.S. and Europe)
Yes
Magnetic Mount
No
Access to live services via app (traffic, weather, etc.)
Yes
Interior and exterior recording
No
Rider alert warnings for sharp curves, state helmet laws, speed cameras and more
No
Preloaded private land parcel maps
Yes
Service History Log
No
Garmin Connect™ compatible
No
Current weather plus 5 day forecast via Wi-Fi
No
Simple truck profile
No
LiveTrack via app
No
RV Parks & Services directory
No
Voice-activated navigation (operate device with spoken commands)
No
True Optimal Lap™ with video
No
Headphone jack/audio line-out
No
Control music and media from smartphone or MP3 player
No
Number of switch outputs
No
Route shaping through preferred cities/streets
Yes
Stream media and Alexa responses through vehicle stereo
No
Trucking points of interest
No
Requires cellular data connection
No
Driving performance scores
No
True Track Positioning™ (your racing line)
No
Wireless ANT+® technology
No
Segment analysis (racing line, speed and acceleration/deceleration)
No
Pair with compatible inReach® devices
Yes
Smart notifications via app
Yes
Truck & Trailer Services directory
No
Dust rating
No
Mile marker info - Trucking
No
Includes map updates
Yes
Barometric altimeter
Yes
Dual-orientation display
Yes
Planned & dynamic fuel stops
No
Includes traffic
yes (with Garmin Tread app)
Handlebar mount (up to 1")
No
Fist mic compatibility
Also works with other MURS VHF radios (151 MHz - 154 MHz)
Pitch and Roll gauges
Yes
Sunrise/sunset times - RV
No
Bluetooth® calling
Yes (works with Bluetooth®-compatible helmet, headset or smartphone; BLE capable)
BLUETOOTH® connectivity
No
Mile marker info - RV
No
State & country border notices - Trucking
No
Motorcycle or powersports specific points of interest for cycle repair services, dealers and more
No
Radio Frequency Band
MURS (151-154 MHz)
State border notices - RV
No
Helmet law notifications
No
2 microphones; beam-forming technology
No
Drop rating
MIL-STD-810
Load-to-dock guidance
No
Track support
No
Radio transmitted canned messages
Yes
Internal storage
32 GB
HOS violation warnings
No
1" ball adapter with AMPS plate
Yes
Amazon Alexa voice service
No
Data cards
microSD™ card (not included)
Screw-down mount
No
Backup camera compatible
yes (BC™ 40)
Garmin Real Directions™ landmark guidance
Yes
Lane assist with junction view (displays junction signs)
Yes
iOverlander™ points of interest
Yes
Clarity ™ HDR
No
Max amps per switch output
No
Sunlight readable and weather resistant
No
Group Ride voice communications
yes (with included fist mic or paired BLUETOOTH headset)
Includes automotive mount
No
Supports multiple users
No
IFTA fuel logging capability
No
Stores history of all on-track performance
No
Group Ride update rate
2.5 sec
Preloaded topographical maps
Yes
Number of hardwire inputs
No
Track recorder (breadcrumbs)
Yes
Preloaded USFS Roads and Trails, including motor-vehicle-use-maps for motorcycle, ATV, SXS and full-size 4x4
Yes
VIRB® control
No
GLONASS
No
Downloadable Satellite Imagery
yes (BirdsEye)
Preloaded global track database
No
TripAdvisor® Traveler Ratings
Yes
Group Ride tracking
up to 20 riders simultaneously
Built-in Spotify® & Pandora® music players
No
Removable battery
No
Audio line-out/headphone jack
No
Garmin Adventurous Routing™
No
Glove-friendly touchscreen
No
Powered magnetic mount
No
Image processing
No
Session comparisons
No
Elevation profile
No
Custom map

 

support
No
Sunrise/sunset times - Trucking
No
3D Terrain
Yes
Compatible with Group Ride Radio
Yes (included)
TOPO map support
No
Point-to-point navigation
Yes
Millions of Foursquare® points of interest
No
Tube mount (1.5" - 2.375")
Yes
Built-in accelerometers
No
Interior night vision
No
GPS speed and location info in video
No
Built-in dash camera with automatic incident detection
No
Driver alerts for sharp curves, school zones, red light and speed camera warnings and more
Yes
Preloaded US public land boundaries
Yes
Camera-assisted features for forward collision warnings, lane departure warnings, "Go" alert and Garmin Real Vision™
No
Real-time audio cues/audio coaching
No
Supports multiple cars
No
Displays best lap time, adaptive delta time, number of laps and total session time
No
Downloadable USGS Quad Sheets
No
Max amps total
No
10 Hz multi-GNSS positioning
No
Pair with Garmin PowerSwitch
Yes
Easy trip planning (GPX file sharing)
No
Compass
Yes
Compatible with Garmin Explore™ app
No
Galileo
Yes
Truck-specific speed limits
No
Group Ride Range
typically 1 mile
Incident Detection (G-Sensor)
No
Popular truck route data
No
3-D buildings and terrain
No
Tread
Fist mic
VHF antenna
Antenna mount kit
Tube mount kit
High-current power cable
Trim ring kit (blue, black, red and green)
USB cable
Documentation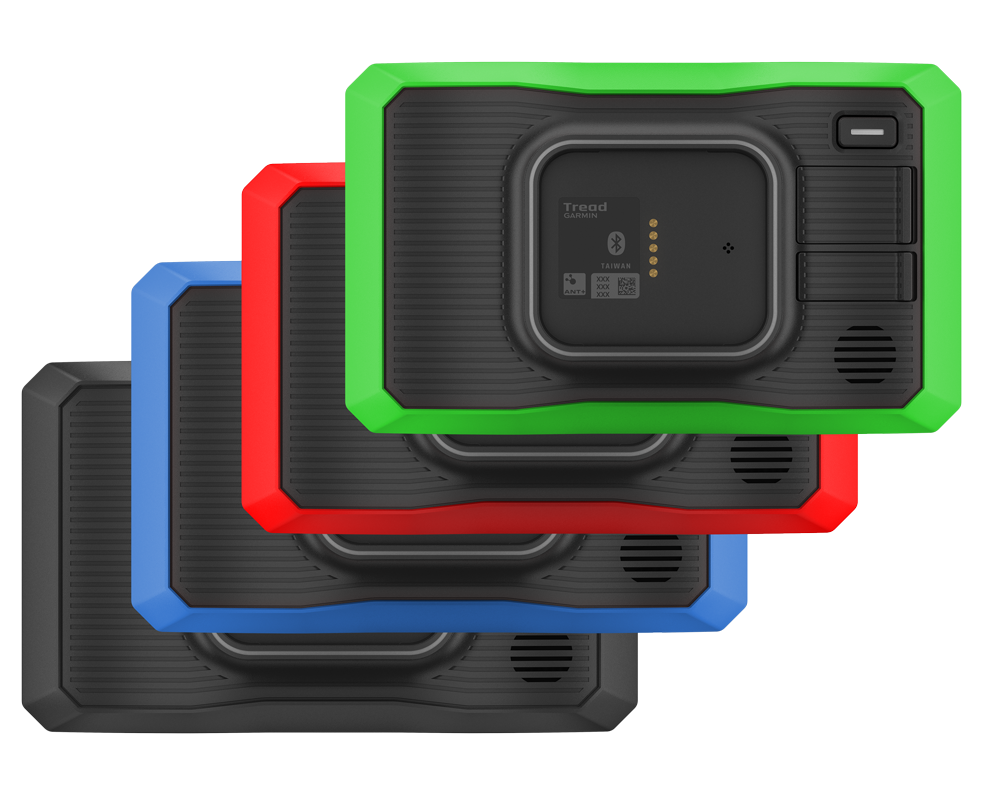 FREE SHIPPING (Continental USA)
FREE standard shipping on orders over $139 of Blue Ridge Overland Gear brand products (please note: that means product total before shipping costs). Limited to orders shipped within the continental United States and does not include anything but Blue Ridge Overland Gear. Other conditions may apply. Please remember that your product total (before shipping costs) must be over $139 to qualify for FREE SHIPPING.
INTERNATIONAL ORDERS (NO HEAVY FREIGHT!)
We do ship most BROG brand products overseas but, please take note, we do NOT ship heavy products like fridges/powered coolers and fridge slides outside of the continental United States of America.
MORE IMPORTANT INFO
TIME SENSITIVE ORDERS: Many of our customers order from us right before they are taking a trip. We do our best to get your order to you as quickly as possible but we always recommend that you place your order well in advance of any trip you may be taking. Please keep in mind, if you order one of our products and it is a low stock item there may be additional time required for production.
We highly suggest that you DO NOT attempt to place an order at the last minute. We cannot guarantee that your order will be expedited, especially if we are experiencing high order volume. However, we do try to prioritize orders when possible, if necessary - so feel free to contact us for the most recent information on turn-around times. 
REROUTING PACKAGES: We also get rerouting requests at times. Rerouting your shipment is possible in many cases but not always. There are alot of details to keep in mind and there is a charge for rerouting - please read all details below:
 Please include in your order notes what day you must have the items "in hand" if your order is time-sensitive.
If your trip deadline is approaching and you are concerned that you might not receive your order in time, please try to contact us before the item ships to avoid rerouting fees.
We are happy to reroute already shipped orders to keep up with your changing itinerary. However, please note that once an order leaves our facility, you as the customer are responsible for any rerouting fees assigned by the carrier. Rerouting UPS shipments already in transit are a $35 fee per address change. USPS charges around $15 dollars per address change.
Not every shipment is eligible for a reroute. Will check the status of your shipment to be sure it's available for delivery changes BEFORE you are charged rerouting fees.
Rerouting fees can be paid by an online payable invoice at your request. Please note that once an item is rerouted, these fees are non-refundable.
Rerouting your shipment can add add several days to the transit time of the item. Changing your shipments address doesn't guarantee you will receive the items more quickly than the expected delivery date.
We cannot switch carriers mid-shipment (i.e., an item intially shipped UPS at your request and you wish to have it delivered by US Mail).
RUGGED LIFETIME WARRANTY

We pride ourselves in building rugged products that you can use for a lifetime. We're in it for the long haul and so is our gear. Don't be afraid to put it to the test. If for some reason you don't love your authentic BROG gear, let us know and we'll make it right. If you run it over by accident or the kids (human or animal) tear it to pieces, let us know and we'll replace it. If you drop it off a cliff or some curious squirrels steal it away in the night that would be hard to replace - but if our products don't survive your typical wear and tear or even your abuse - we want to know about it. We're here to help you get outdoors and stay organized. If you have any issues or questions contact us.

// See Our Full Warranty: HERE //
RETURNS
You can return any Blue ridge Overland Gear product in 30 days, for any reason. Please contact Customer Support for more information on returning an item (see ways to contact us below).
Shipping return address: Blue Ridge Overland Gear, 2687 Rocky Ford Rd, Bedford Va 24523

=========================
Contact Us By Email:
Email us at: support@blueridgeoverlandgear.com  (This is the preferred way to reach us, as it allows us to quickly relate your contact info with your full order history).

Please know our Customer Support Team strives to answer emails in a timely manner. We typically reply within 24 to 48 hours - but please note: we typically do not reply on evenings and weekends when the office is closed.


Call Us On the Phone:
1-866-855-5471
(See here for our hours. Closed on evenings and weekends.)

We are a small team but are dedicated to you - our customer! If we are helping other customers, or you call outside of our normal storefront hours, please leave a message with: (1.) your full name, (2.) a phone number we can reach you at, and (3.) your order number.
Please note: if you call via phone but do not leave us a message we will not be able to return your call.